100% Online Bachelor's in Communication Degree Program
Prepare yourself for a career in communications by pursuing your Bachelor of Arts in Communication online from the University of Colorado Colorado Springs. Learn the art of connecting with diverse audiences, the science behind utilizing digital media channels, and the theory and principles that underpin effective communication. Lay the groundwork for a wide range of career paths while earning your degree from a nationally recognized university.
The online BA in Communication program can help you acquire in-demand skills on your own schedule. Whether you're a first-time college student or you're considering transferring to complete your bachelor's, this degree will help you navigate the workforce with confidence. Our online, 8-week (or shorter) course formats are designed to keep you engaged and help you complete your studies faster. You'll progress through courses quickly, but your experience will be similar to on-campus students in that you'll work with the same faculty, study the same material, and earn the same degree: a Bachelor of Arts in Communication from the University of Colorado.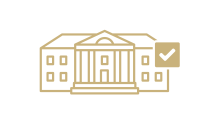 Program at a Glance
Degree Program:
Bachelor of Arts in Communication
Offered By:

Tuition:
Cost Per Credit:
$622*
*Approximate tuition per credit hour based on the number of credits taken
Program Details
Communication is a core aspect of a successful career in any industry around the world.  The ability to write and speak clearly and concisely, think critically, build and maintain relationships, and work as part of a team, are highly desirable skills for both employers and graduate schools, as effectively expressing ideas is essential to success in the workplace and the classroom. 
Our online Bachelor of Arts in Communication will teach you these skills and how to apply them every day in your personal, professional, and civic life. You'll also deepen your understanding of the political, social, cultural, global, and historical aspects of communication.
Our degree is designed to provide a comprehensive overview of the field of communication and includes multiple electives for you to customize the program to your specific interests. Not only will you gain broad theoretical knowledge, but you'll also get practical, hands-on experience that will help you implement what you learn in the classroom to real-world situations.
Upon completion of our online Bachelor of Arts in Communication you'll have a comprehensive foundation for a rewarding career in public relations, social media management, training, media creation, and more. We pride ourselves on preparing effective communicators, leaders, and advocates across industries.
Communication Degree Tracks
The online Bachelor's in Communication features the ability to customize your degree based on your area of interest.
Applied Media Studies
Applied Media Studies focuses on the understanding of media, culture, and society as well as their interrelationships. In the required courses, you will explore theories and research dealing with the social and psychological effects of media and learn how to conduct research. You will gain an understanding of relevant media theories, develop important media skills, and apply what you have learned to specific areas of media studies, such as advertising and health communication. Exciting electives allow you to customize the program to your specific interests. By focusing on research, theory, and practice, the Applied Media Studies track will prepare you to work in a variety of sectors and professions, including in the media industry as a content developer, consultant, or as part of a marketing team; with user experience firms as a researcher; and with government or international agencies, among many others. The track is also a perfect stepping stone for those who want to continue their education in graduate school.
Professional Communication in the Digital, Virtual World
The Professional Communication track focuses on leadership, organizational communication, and strategic communication in a rapidly changing virtual world. You will learn how leadership functions in today's collaborative digital environment, gain an in-depth understanding of communication in teams, organizational culture, and training and consulting as well as the functions of social media in professional settings. Exciting and forward-looking electives such as crisis communication, emerging technologies, and managing virtual teams integrate these areas across diverse types of media and interaction. The Professional communication track will prepare you to work in a variety of sectors, fields, and occupations, including social media management, public relations, human resources, brand management, entrepreneurship, independent consulting, and many other professional settings.
BA in Communication Curriculum Overview
All required classes are offered in the online format both Fall and Spring semesters. A range of elective classes are also available online each semester. All classes are taught by the same high quality professors and instructors who teach the traditional in-seat classes. All online instructors go through specialized training for online certification to ensure the online class provides the same high quality experience as the on-campus course.
Applied Media Track
In this track you'll learn about how the modern digital media landscape works. You'll dive into market research methods and get a feel for how to understand and approach your audience. You will sharpen career-specific writing and public speaking skills before taking your capstone course: Persuasion. At the end of your journey, you will be ready to launch (or continue) your career in digital media with confidence.
Required Courses (18 credit hours)
Contemporary Mass Media (COMM 1000)
Introduction to Communication Theory (COMM 2030)
Research Methods (COMM 2500)
Mass Media and Society (COMM 3650)
Emerging Communication Technologies (COMM 4090)
Entertainment Theory and Research (CAPSTONE) (COMM 4740)
Foundation Courses (9 credit hours)
Select one course from each category for a total of 3 classes/9 credit hours:
Media Theory

Media Effects (COMM 4140)
Entertainment Theory and Research (COMM 4740)

Media Skills

Writing for the Media (COMM 2900)
Public Relations and Social Media (COMM 4050)

Applied Media Studies

Principles and Practices of Advertising (COMM 3250)
Health Communication: Media Perspectives (COMM 3480)
Professional Communication Track
In the Professional Communication track, you'll develop skills that will help you thrive in the business world. As you continue your studies, you will learn how to work with other communication professionals, develop coordinated communication plans, and gain experience in executing marketing campaigns. You'll become a stronger public speaker, writer, and overall employee by the end of your educational journey. 
Required Courses (18 credit hours)
Introduction to Professional Communication (COMM 1050)
Introduction to Communication Theory (COMM 2030)
Research Methods (COMM 2500)
Professional Public Speaking: An Online Course (COMM 3190)
Business and Professional Communication (COMM 3240)
Professional Communication Capstone (COMM 4550)
Foundation Courses (9 credit hours)
Select one course from each category for a total of 3 classes/9 credit hours:
Organizational Communication

Principles of Organizational and Strategic Communication (COMM 2240)
Team Communication (COMM 3150)

Leadership Communication

Organizational Leadership (COMM 3440)
Ethical Leadership (COMM 3770)

Strategic Communication

Writing for the Media (COMM 2900)
Integrated Marketing (COMM 3350)
Elective Courses
Elective courses apply to both the Applied Media and Professional Communication tracks. Students may choose any four courses (12 credit hours) from the list unless they took that class as a Foundation Course. Note the prerequisite courses required for desired upper division courses in order to take them early in the program of study. Students are encouraged to complete an internship during their program of study.
Interpersonal Communication (COMM 1020)
Writing for the Media (COMM 2900)
Professional Public Speaking: An Online Course (COMM 3190)
Business and Professional Communication (COMM 3240)
Principles and Practice of Advertising (COMM 3250)
Intercultural and Global Communication (COMM 3280)
Gender and Leadership (COMM 3330)
Integrated Marketing Communication (COMM 3350)
Digital Communication Technology (COMM 3400)
Organizational Leadership (COMM 3440)
Health Communication: Media Perspectives (COMM 3480)
Ethical Leadership (COMM 3770)
Public Relations and Social Media (COMM 4050)
Media Effects (COMM 4140)
Crisis Communication (COMM 4230)
Internship in Communication (Permission required) (COMM 4690)
Entertainment Theory and Research (COMM 4740)
Leadership and Organizational Change (COMM 4950)
*All courses are subject to change based on the needs of the department
Career Opportunities
A bachelor's in communication can grant you access to opportunities in advertising, public relations, media, human resources, and other professional areas — in virtually any industry. It's especially applicable to careers in the journalism/mass communications field. 
At the forefront of the curriculum is an emphasis on digital communications. Our world continues to move from print media to new electronic channels. As a student in the communication program, you'll develop a deep understanding of how these channels work — and how to use them to further your business objectives. 
Below are a few possible job titles a graduate of the BA in Communication program might hold. 
Marketing Manager 
Marketing Managers dream up, plan, create, and execute on marketing campaigns. They oversee media budgets, overall campaign strategy, and creative services professionals in an effort to create advertisements, publicity, and an overall brand image for organizations both public and private. 
PR Specialist 
Public Relations Specialist act as a liaison between large organizations and the media. They routinely write press releases, field questions from journalists, and pitch story ideas to new outlets. During emergency situations, PR Specialists are often called upon to act as Public Information Officers, ensuring timely and accurate information is distributed to the media and the community. 
Copywriter 
Copywriters work in marketing or advertising departments at large organizations or pursue agency-based or freelance careers. They write anything and everything an organization might need to connect with customers and staff. Copywriters spend the majority of their time writing professional texts: social media ads, web pages, print ads, and more. They also contribute to creative brainstorming sessions and help their team members write corporate communications, among other tasks. 
Media Editor 
Editors typically serve as subject-matter experts in a particular field for media outlets. There are health care editors, sports editors, finance editors, and editors-in-chief at most newspapers and media networks. Editors review stories from journalists and correspondents in addition to writing original content of their own. They also chart a course for future themes and stories in their publication. 
A bachelor's degree in communications can open the door to a career in many fields, including:
Advertising
Brand Management
Business
Digital media
Education
Event planning
Fundraising and development
Government
Healthcare
International relations
Journalism and media writing
Labor Relations
Leadership and governance
Lobbying
Marketing
Media relations
Nonprofit management
Public relations
Public service and government
Sales and customer service
Social activism
Social Media Management
---
Tuition and Fees
At UCCS Online, we strive to keep our tuition costs affordable so that you can get a world-class education that fits your budget. When you earn a degree, you're not simply getting a diploma — you're making a lifelong investment in yourself and empowering your future career. We know that affordability is an important factor, and that's why we're here to help you explore all of the options available to fund your education.  
The UCCS Online Enrollment Team can answer any of your questions about tuition and financial aid, help you take care of the paperwork, and make sure you're able to focus on reaching your goals. From financial aid and scholarships to corporate tuition assistance programs, we'll work with you to find the best way to finance your UCCS Online degree.
Application fee: $50
In-state cost per credit hour: $389*
Out-of-state cost per credit hour: $443*
*Estimated tuition costs based on full credit hours for the Bachelor of Arts in Communications degree (120 credits). Additional fees may apply. Contact the UCCS Online Enrollment Team for more details.
Financial Aid
Financial aid is available for eligible students to use toward paying educational costs while enrolled in a UCCS Online program. To determine your eligibility and apply for financial aid, you'll need to fill out the Free Application for Federal Student Aid (FAFSA). When you submit your FAFSA, you will be considered for three types of aid: grants, work-study, and student loans. To be considered for federal financial aid, you will need to apply early and annually. 
Scholarships 
Once you are admitted to the University of Colorado, you'll have access to our internal scholarship portal where you can view and apply to many funding opportunities offered by the university. Scholarship opportunities typically require an application and may have specific eligibility requirements related to a student's academic merit, financial need, community service, work experience, and more. Unlike financial aid loans, scholarships are gift aid that does not have to be repaid. As a student, you will be able to apply for scholarships every semester.
Transfer Credits 
If you are applying as a transfer student, your coursework from other colleges and universities could count toward your University of Colorado degree requirements. Transferring credits to your UCCS Online degree program may help you save on tuition costs and complete your degree sooner. Once you are admitted to the university, a transfer credit evaluation will be performed to determine how many transfer credits are eligible to apply to your degree. 
Veteran & Military Student Benefits
UCCS Online is military-friendly and committed to providing service members and their families with a high-quality education that fits their distinct needs. As a UCCS Online student, you will have access to the UCCS Veteran and Military Affairs, which connects veteran, active duty, reservist, National Guard, and dependent students with fundamental support, services, and resources to ensure academic and professional success. UCCS is a proud home campus to many veteran and military students.
Our veteran and military students may use both veteran benefits and financial aid to pay for their education. Military benefits with UCCS Online include:
Waived application fee
GI Bill benefits
Potential to be awarded credit hours for military training and experience
Free tutoring and academic support
Connect with the UCCS Online Enrollment Team to learn more about the benefits and financial assistance available to military and veteran students.
---
Apply Now
As you consider an online education, we understand that it's important for you to know that you're getting a high-quality, affordable, and flexible online education that helps you reach your goals. That's why the UCCS Online Enrollment Team is available to offer guidance and answer any questions that you may have about our degree programs, financial aid options, transfer information, admissions requirements, and more. 
Whether you want to talk through your degree plans, learn more about a specific program, or start your application, the UCCS Online Enrollment Team will provide friendly support as you decide if UCCS Online is the right fit for your future.